Alpine's ethos of excellence continues in the next generation of Halo9. The iLX-F509A introduces industry-first innovations, along with a stunningly beautiful WXGA display, Hi-Res Audio specifications and advanced wireless connectivity.
Employing an ultra-high-quality WXGA display with 2.7 million pixels and a revolutionary laminated construction, image performance is of the highest standard, reproducing life-like razor sharp images with remarkable contrast and colour vibrancy. High-definition video from USB or HDMI sources has never looked so good.
Wireless Apple CarPlay and Android Auto, brings your smartphone and a wide-range of apps to the dashboard. Get directions, make calls, send and receive messages and listen to high-resolution streaming music all without a cable in sight.
The iLX-F509A brings the concert to the cockpit with Hi-Res Audio and LDAC wireless technology, letting you play high-resolution music via USB, or streaming via smartphone music services and apps revealing the original recording the way the artist intended.
With the world's first built-in Class-D amplifier the iLX-F509A reinvents head unit power, delivering the richness and acoustic crescendos of virtually any music style and live performances through any loudspeaker.
What's more, with a range of simple sound settings and MediaXpander you can make your cabin space and music experience come alive at touch of the display.
Satisfying enthusiasts and pro-users an advanced tuning mode is available with a 56-Band Parametric EQ, digital crossover and time correction enabling unparalleled system tuning, vehicle sound adaptation and personalisation.
With unrivalled technology and connectivity, as well as impeccable visual clarity and high-resolution audio, the iLX-F509A is a magnificent centrepiece for any dashboard—bringing the emotion of music and pure enjoyment to every drive.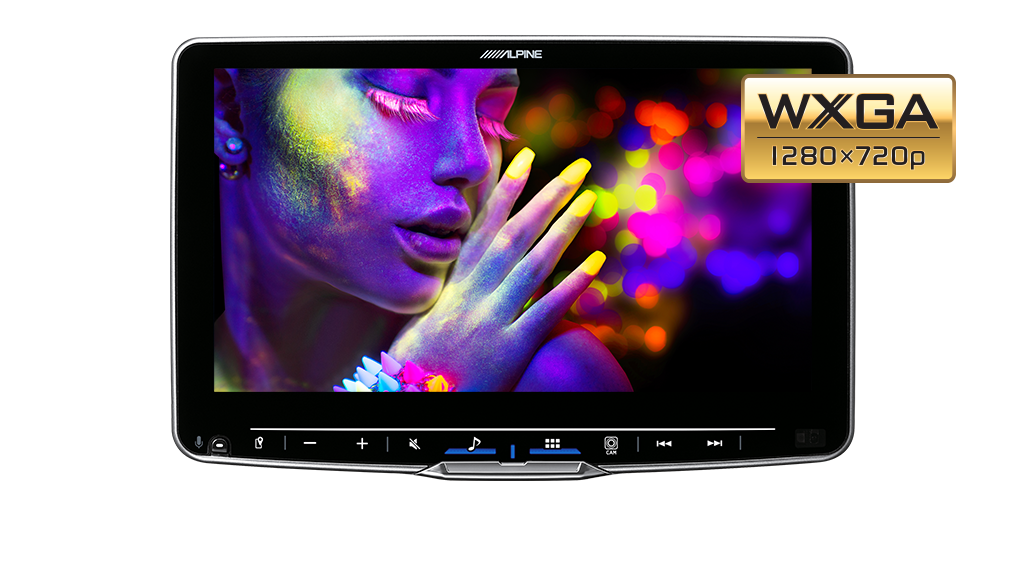 High-Definition Laminated Display
Alpine's incredible WXGA display has to be seen to be believed, colours are intensely vibrant and realistic, video motion is ultra-smooth and the image detail is razor sharp. Moreover, with its laminated display technology brightness and contrast is truly next level, so no matter the lighting conditions or viewing angle the display reveals incredible clarity and true-to-life colour. Alpine's new WXGA high definition display is simply stunningly beautiful—bringing a cinematic experience right into your dashboard.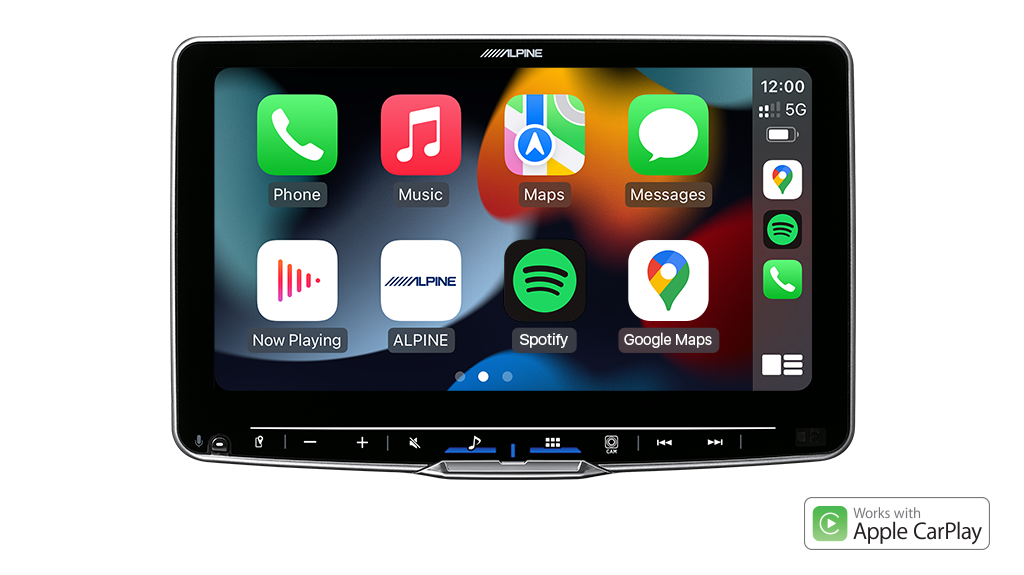 Apple CarPlay Wireless or USB
No wires, no fuss, just get in and drive with your iPhone wirelessly connected to use Apple CarPlay. Listen to your favourite music apps, make and receive calls or messages, use maps or navigation apps, all at your command via the display or voice control. If you need to charge-up then plug-in your iPhone via USB.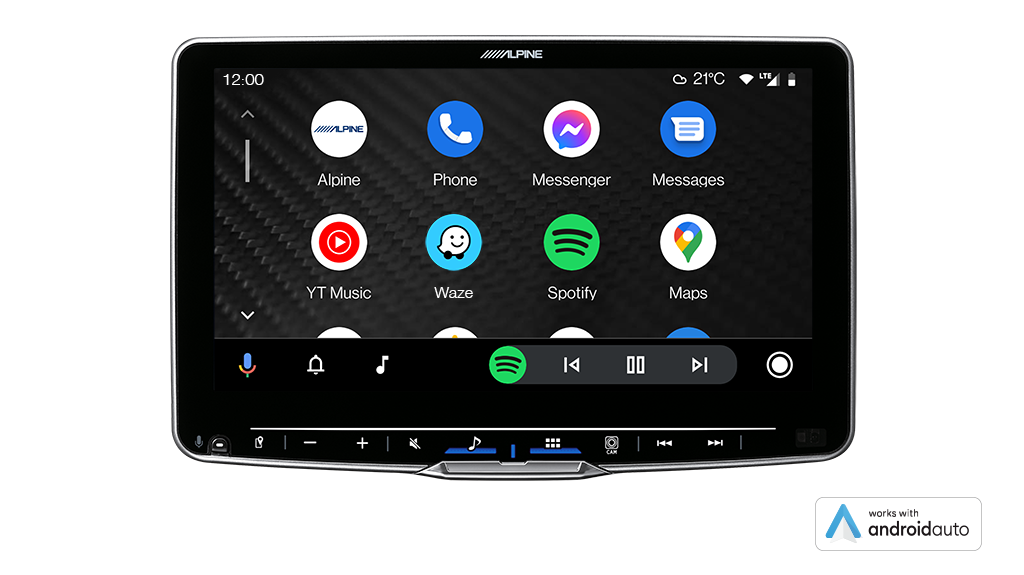 Android Auto Wireless or USB
The convenience of Android Auto allows a wide-array of applications into the dash of your car. Interact via touch or voice command you can make calls and messages, play music apps and much more. All this, now with wireless connectivity or if you need to charge-up on the go simply connect via the USB port.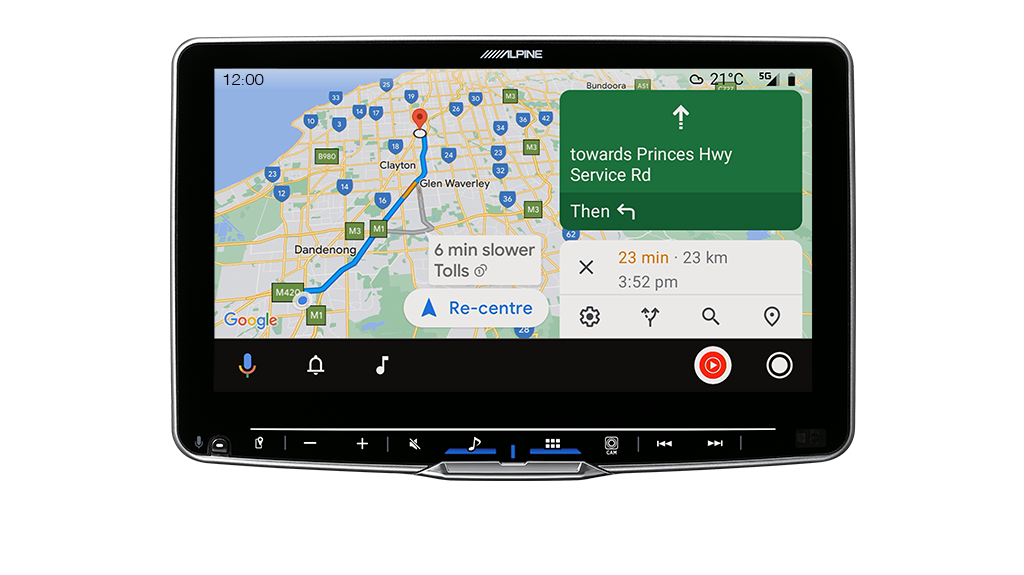 Smartphone Navigation 
Through the incredible Alpine WXGA high-definition display you have the access and convenience of highly accurate navigation, further enhancing the Apple CarPlay and Android Auto and experience.
With an array of navigation platforms and apps available, for example Apple Maps, Google Maps, Waze and Sygic you can search and get to your destination with ease. You'll have voice and visual prompts of turn-by-turn navigation and finding locations is a breeze via the display or using voice control.
Furthermore, with the built-in GPS/GLONASS circuit and antenna, as well as vehicle speed pulse sense connectivity ensures your actual vehicle position has pin-point accuracy on the road. This keeps you on route when driving through complex and dense city road systems, tunnels, bridges and elevated mountain highways and terrains.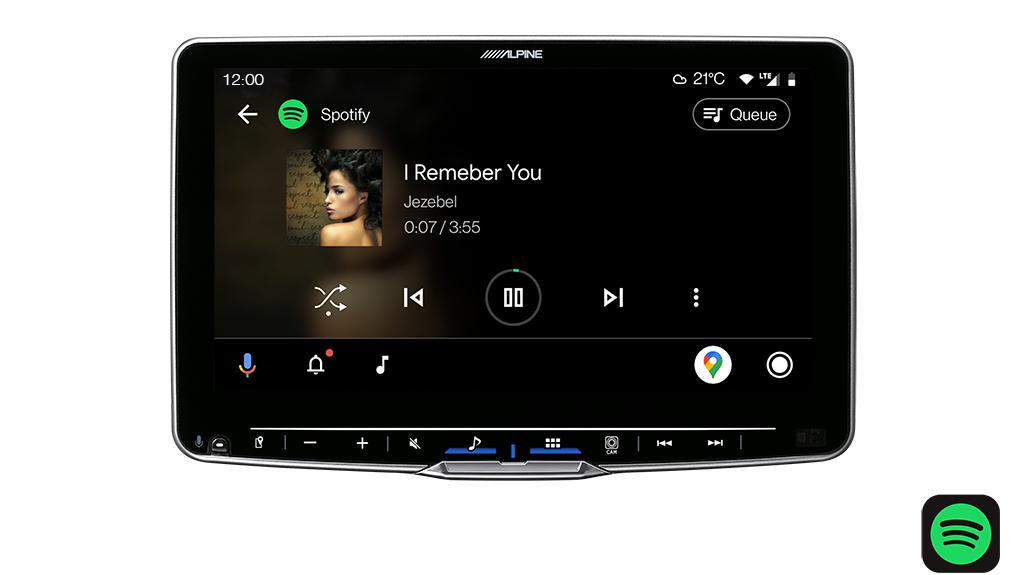 Spotify
Access the worlds music library with millions of tracks and episodes available on Spotify. When using Apple CarPlay or Android Auto with the Spotify app, you can play the latest songs from your favourite artists, charts and playlists. Plus, browse through the collections of friends, artists, celebrities and radio stations all from the comfort of the driver's seat. All this, without a single physical connection thanks to the added convenience of Wireless Apple CarPlay and Android Auto.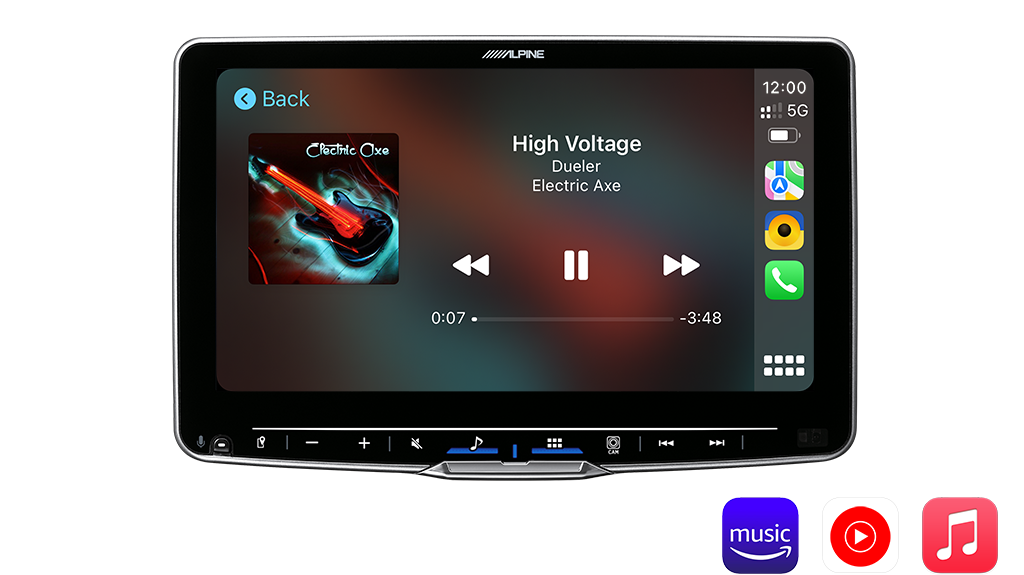 Audio Streaming Apps
With Apple Music onboard for Apple CarPlay you have access to 60+ million ad-free songs at your fingertips which you can search genres, artists, podcasts and expertly crafted playlists. With the use of Apple CarPlay or Android Auto, Amazon Music and YouTube Music provides limitless entertainment to stream or download songs from a list of over 40 million ad-free tracks. Amazon Music, YouTube Music and Apple Music are paid subscriptions.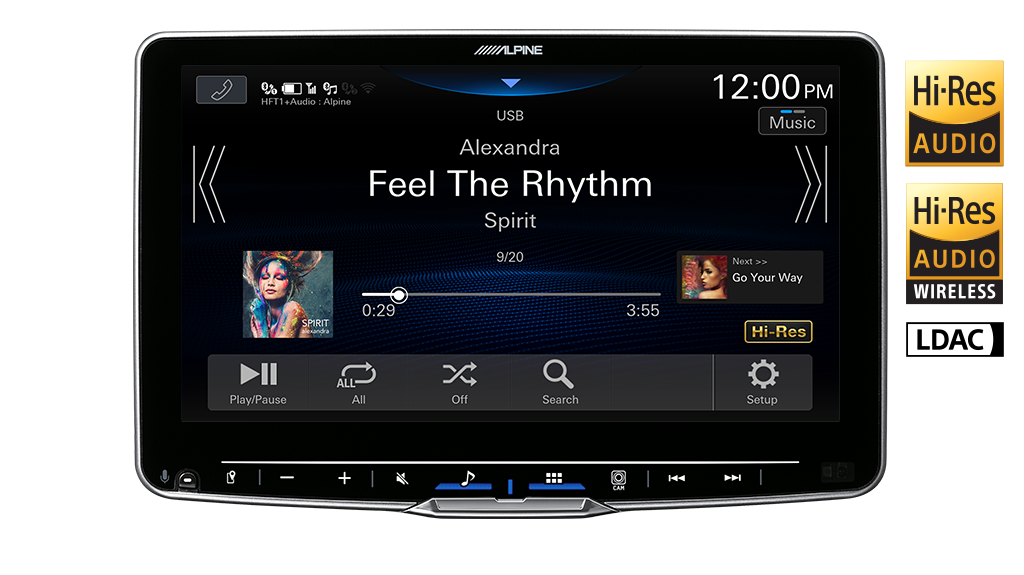 Hi-Res Audio Certified with USB and Wireless Connectivity
Audiophile and music fans can now enjoy a true high-fidelity audio experience with the astonishing detail and musical beauty of Hi-Res Audio. The iLX-F509A supports up to 192kHz/24Bit FLAC/WAV and APE high-resolution audio files with their intended playback specification of 96kHz/24Bit. This means, no longer do you have to compromise your listening experience lost in highly-compressed traditional audio formats, in Hi-Res your music now comes alive with stunning clarity and every nuance revealed, just as the artist intended. When playing Hi-Res Audio files the iLX-F509A will display the Hi-Res icon and file bit rate.
Even more impressive, equipped with Hi-Res Audio Wireless and LDAC technology, you can connect your smartphone via USB or wirelessly and use Hi-Res Audio streaming services or apps bringing a virtually limitless music library with the purest sound right inside your car.
Features
9″ WXGA Capacitive Laminated HD Display
Wireless Hi-Res Audio
Wireless Apple CarPlay
Android Auto
Built-In DAB+
RDS (Radio Data System)
FLAC/MP3/WMA/AAC/APE
Video MP4/AVI/MKV
Built-in Bluetooth®
Dual Rear USB Inputs
3 PreOuts (4 Volt)
UART/CAN Interface Ready
Steering Wheel Cont. Ready
HDMI Input+ Output
New Advanced UI
13-Band Parametric EQ
6CH Digital Time Correction
Sub Level/ Phase Adjust.
HP/LP Crossovers
Dual HD Paramteric EQ
MediaXpander HD
24-bit DAC
50 Watts x 4 Built-in Amp
Dual-Direct Camera Input or RCA with optional CAM-ALP-ADP
Steering Wheel Control Ready
Audio Visual Security can supply and install your product.
We also offer products that will complete your installation including steering wheel control adaptors, wiring harness, fascia panels, can bus integration, antenna adaptors and integrated reverse camera.
These products are vehicle specific and we recommend to be contacted with the vehicle details, so we can ensure the right products are ordered for your car.