The iLX-F511A is an innovation masterpiece created for the digital era, culminating cutting-edge design and technology with an absolutely stunning ultra-high-quality WXGA display, Hi-Res Audio specifications and advanced wireless connectivity.
Audiophiles and music fanatics can rejoice, the iLX-F511A brings a high-fidelity sound experience to the cockpit. With Hi-Res Audio and LDAC wireless technology, you can play high-resolution music from USB, or streaming via a smartphone at Hi-Res Audio specification. Hi-Res Audio reveals everything you need to hear in the music you love in the best quality possible.
The cinematic 11" WXGA display with 2.7 million pixels and innovative lamination composition elevates picture quality to next the level. At any angle images are razor sharp, vibrantly colourful, bringing full-life to HDMI sources and USB video played in high-definition.
Equipped with wireless Apple CarPlay and Android Auto, a wide-array of smartphone apps are available to use in your dashboard. Get directions with maps and navigation apps, send and receive messages, make calls and listen to music all without a cable in sight.
Expertly engineered for superior sound performance, the iLX-F511A is equipped with the world's first Class-D built-in head unit power amplifier, delivering the full dynamics of your music.
Moreover, with Alpine's extensive sound tuning built-in you can apply simple one touch audio adjustments to make your cabin space sound brilliant, or for pro-level users and enthusiasts a host of advanced tuning functions are available.
Class-leading in every way, the top-of-line iLX-F511A is the new benchmark, delivering an incredible connectivity and multimedia experience with staggering audio performance.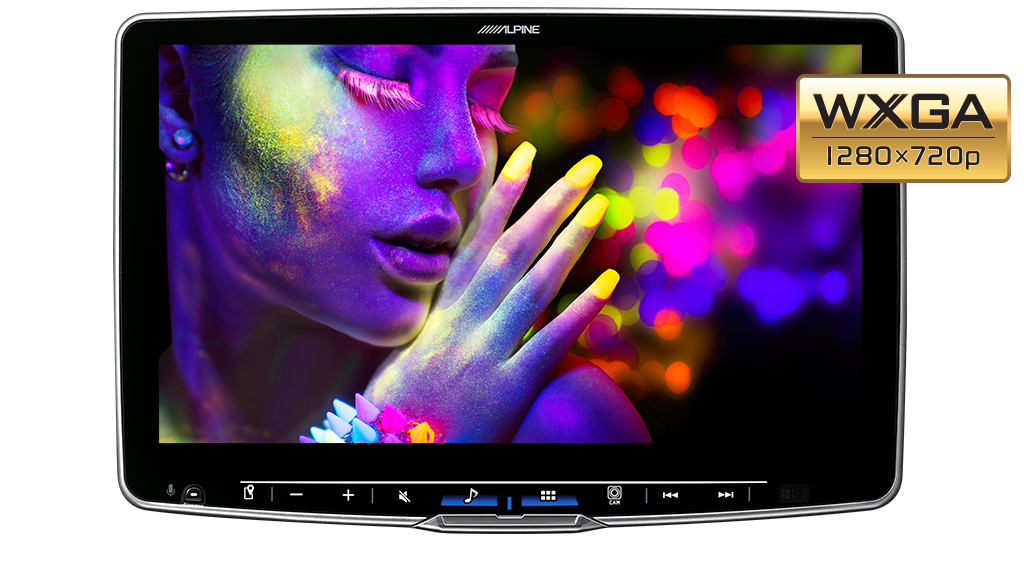 High-Definition Laminated Display
Alpine's incredible WXGA display has to be seen to be believed, colours are intensely vibrant and realistic, video motion is ultra-smooth and the image detail is razor sharp. Moreover, with its laminated display technology brightness and contrast is truly next level, so no matter the lighting conditions or viewing angle the display reveals incredible clarity and true-to-life colour. Alpine's new WXGA high definition display is simply stunningly beautiful—bringing a cinematic experience right into your dashboard.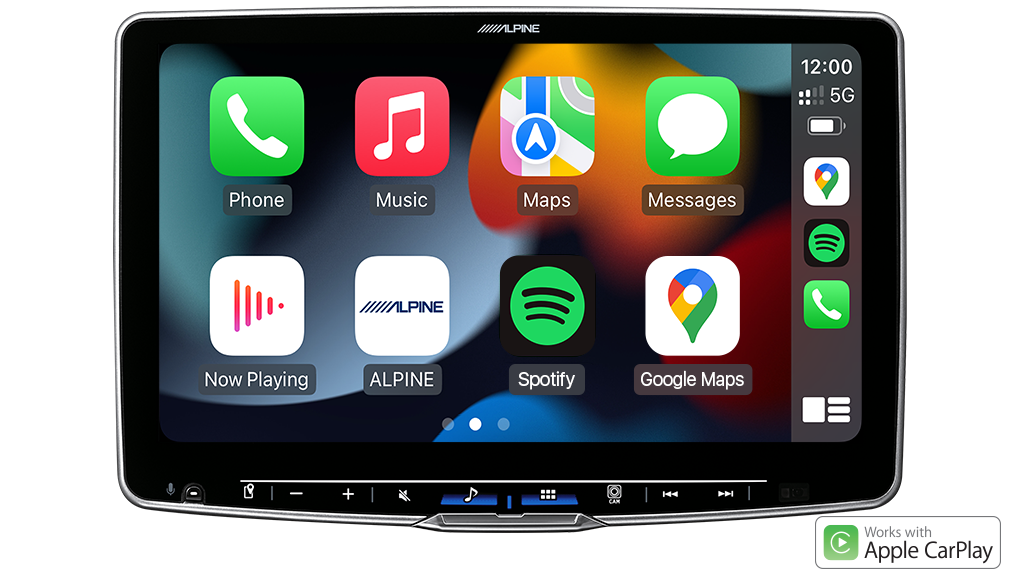 Apple CarPlay Wireless or USB
No wires, no fuss, just get in and drive with your iPhone wirelessly connected to use Apple CarPlay. Listen to your favourite music apps, make and receive calls or messages, use maps or navigation apps, all at your command via the display or voice control. If you need to charge-up then plug-in your iPhone via USB.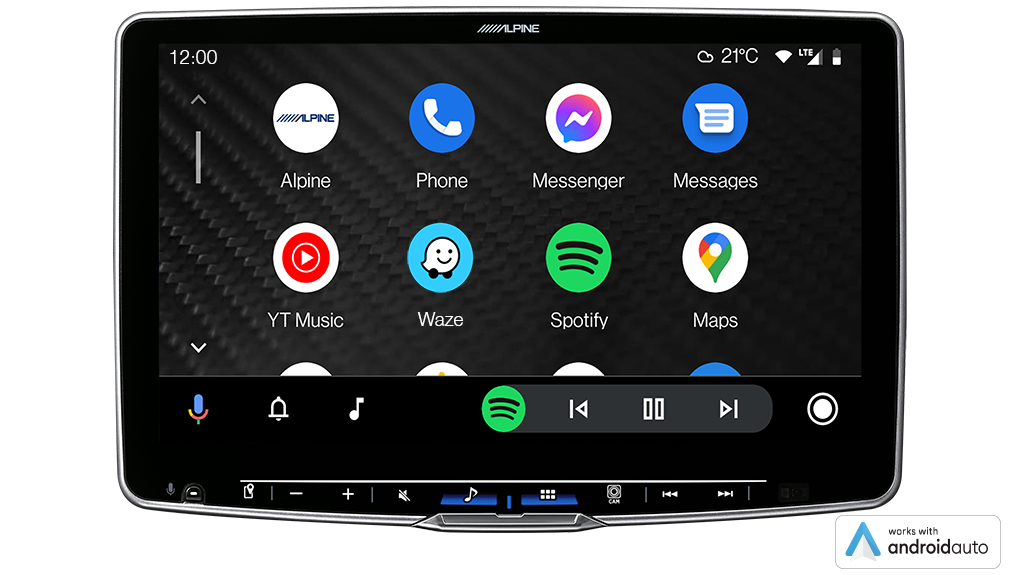 Android Auto Wireless or USB
The convenience of Android Auto allows a wide-array of applications into the dash of your car. Interact via touch or voice command you can make calls and messages, play music apps and much more. All this, now with wireless connectivity or if you need to charge-up on the go simply connect via the USB port.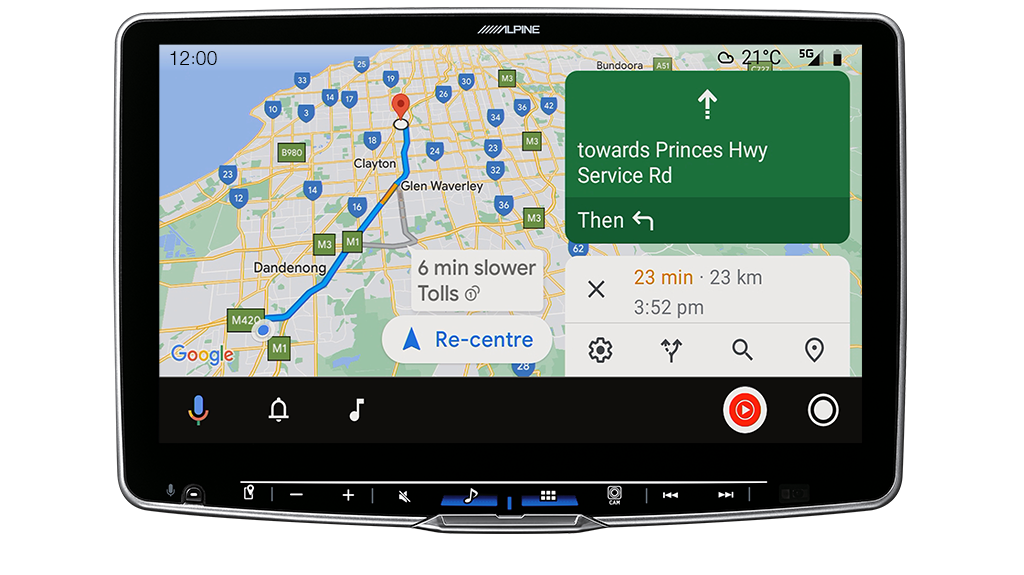 Smartphone Navigation 
Through the incredible Alpine WXGA high-definition display you have the access and convenience of highly accurate navigation, further enhancing the Apple CarPlay and Android Auto and experience.
With an array of navigation platforms and apps available, for example Apple Maps, Google Maps, Waze and Sygic you can search and get to your destination with ease. You'll have voice and visual prompts of turn-by-turn navigation and finding locations is a breeze via the display or using voice control.
Furthermore, with the built-in GPS/GLONASS circuit and antenna, as well as vehicle speed pulse sense connectivity ensures your actual vehicle position has pin-point accuracy on the road. This keeps you on route when driving through complex and dense city road systems, tunnels, bridges and elevated mountain highways and terrains.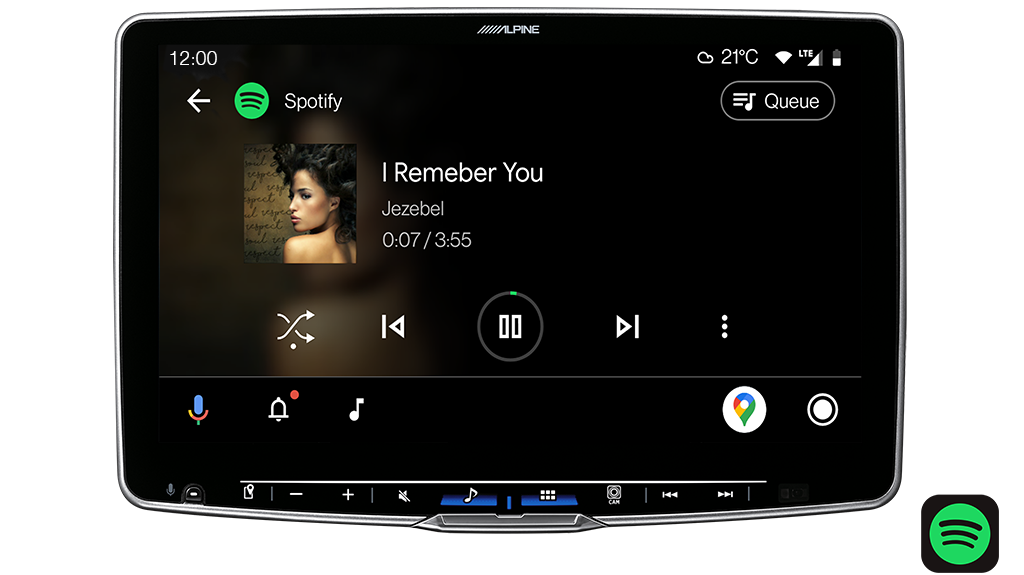 Spotify
Access the worlds music library with millions of tracks and episodes available on Spotify. When using Apple CarPlay or Android Auto with the Spotify app, you can play the latest songs from your favourite artists, charts and playlists. Plus, browse through the collections of friends, artists, celebrities and radio stations all from the comfort of the driver's seat. All this, without a single physical connection thanks to the added convenience of Wireless Apple CarPlay and Android Auto.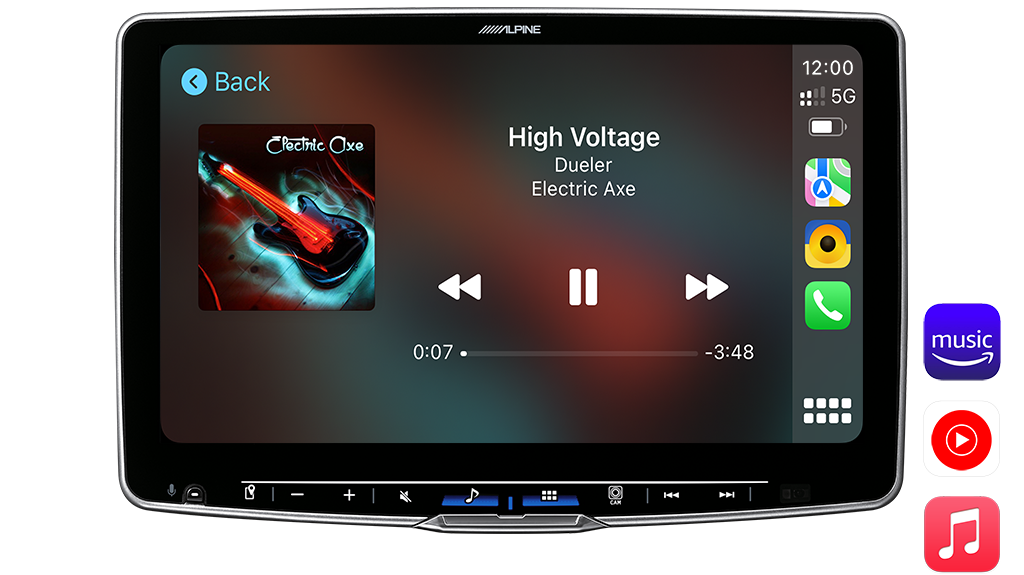 Audio Streaming Apps
With Apple Music onboard for Apple CarPlay you have access to 60+ million ad-free songs at your fingertips which you can search genres, artists, podcasts and expertly crafted playlists. With the use of Apple CarPlay or Android Auto, Amazon Music and YouTube Music provides limitless entertainment to stream or download songs from a list of over 40 million ad-free tracks. Amazon Music, YouTube Music and Apple Music are paid subscriptions.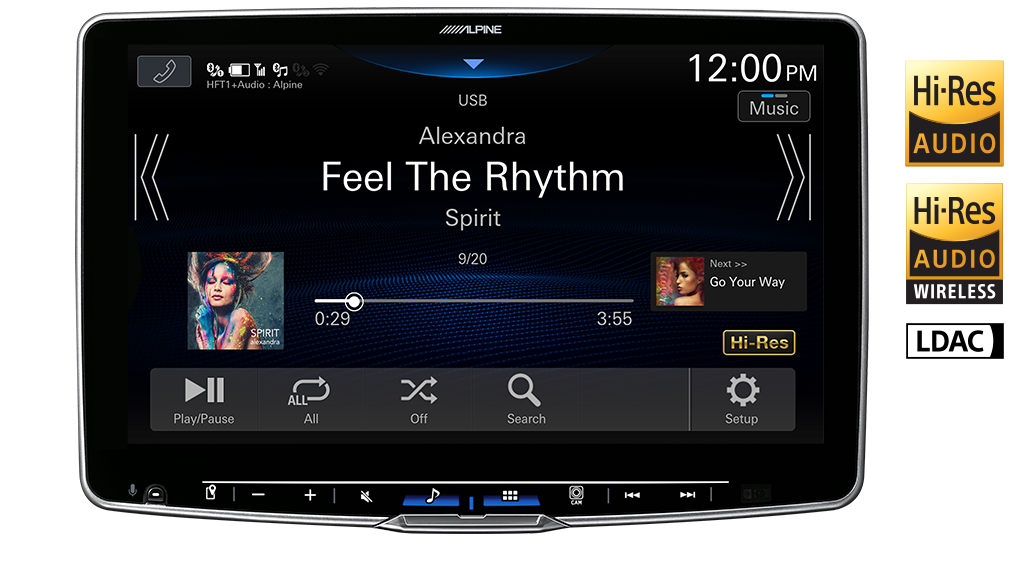 Hi-Res Audio Certified with USB and Wireless Connectivity
Audiophile and music fans can now enjoy a true high-fidelity audio experience with the astonishing detail and musical beauty of Hi-Res Audio. The iLX-F511A supports up to 192kHz/24Bit FLAC/WAV and APE high-resolution audio files with their intended playback specification of 96kHz/24Bit. This means, no longer do you have to compromise your listening experience lost in highly-compressed traditional audio formats, in Hi-Res your music now comes alive with stunning clarity and every nuance revealed, just as the artist intended. When playing Hi-Res Audio files the iLX-F511A will display the Hi-Res icon and file bit rate.
Even more impressive, equipped with Hi-Res Audio Wireless and LDAC technology, you can connect your smartphone via USB or wirelessly and use Hi-Res Audio streaming services or apps bringing a virtually limitless music library with the purest sound right inside your car.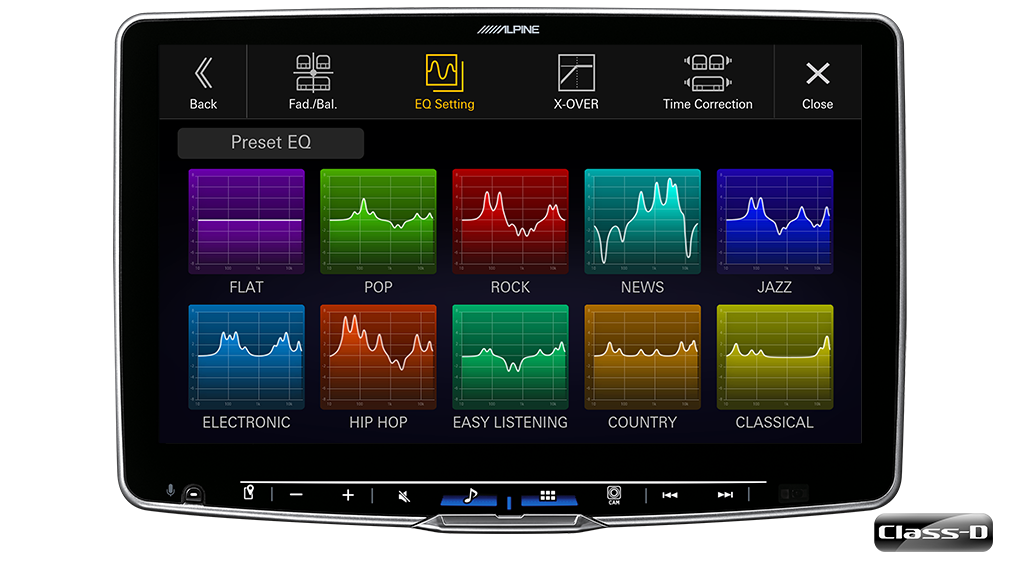 Built-in Class-D Amplifier
An industry world first, the iLX-F511A is equipped with Class-D amplifier technology producing a massive 50 x 4 Watts of power, delivering the best sound quality and dynamics from high-resolution music. Class-D amplifiers are known to be highly efficient and capable of beautiful high-end sound reproduction with significantly reduced noise and phase shift. What's more, new ultra-high-spec fans and internal heat sinks direct and dissipate any unwanted heat, ensuring optimum temperature control and audio performance.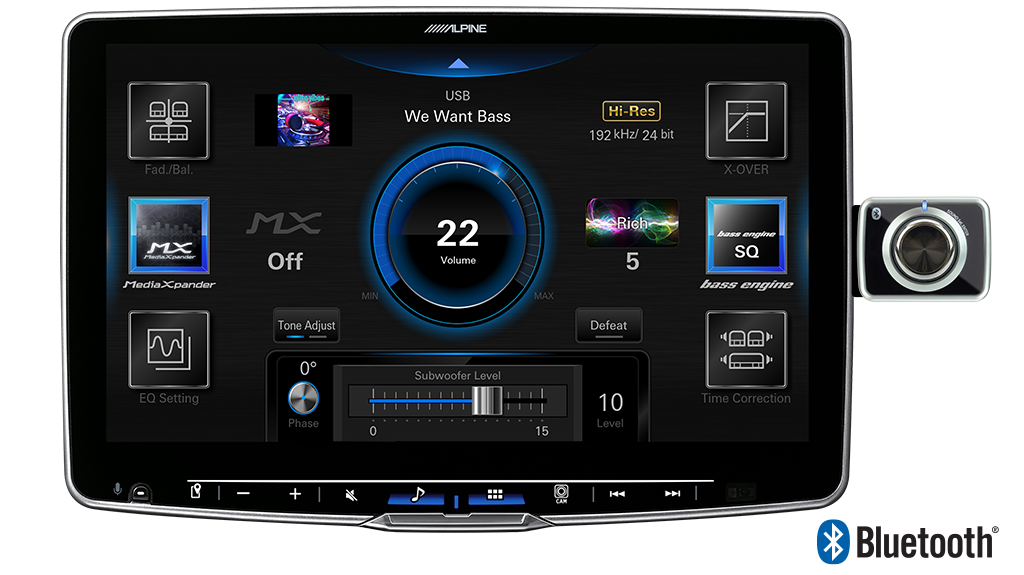 External Control Knob (RUE-BK01A sold separately)
The RUE-BK01A external control knob (sold separately) connects wirelessly to the iLX-F511A and can be installed on either side of the display for added convenience. Alternatively, you can place the control knob anywhere else within the vehicle and for custom installation professionals the mounting possibilities are virtually endless. Rotation of the knob controls the unit volume output, while a push of the knob will cycle through your vehicles safety cameras on screen.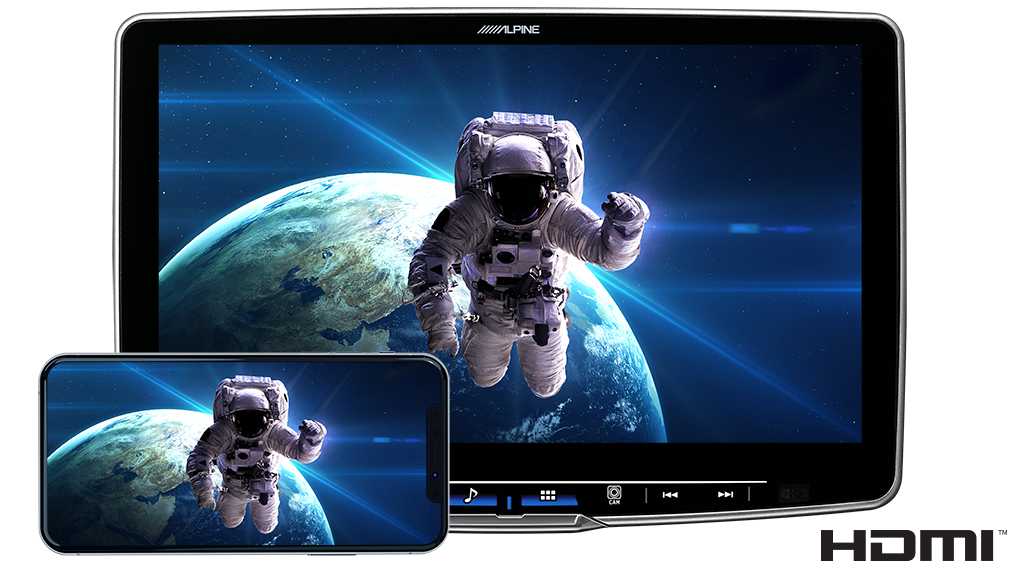 HDMI Connectivity 
HDMI enables connectivity to a number of different devices including smartphone mirroring—making audio and video playback possible in high-definition through the 9" display for virtually limitless entertainment.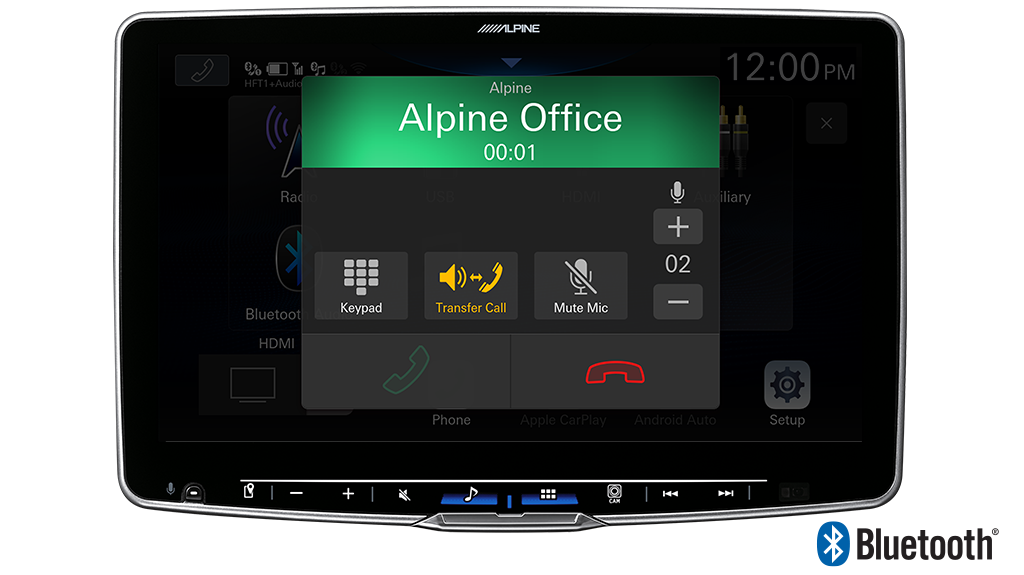 Built-In Bluetooth 
Built-in Bluetooth enables wireless connection of a mobile phone for the convenience and safety of hands free phone and audio streaming. Plus, you can use voice control through the external microphone included.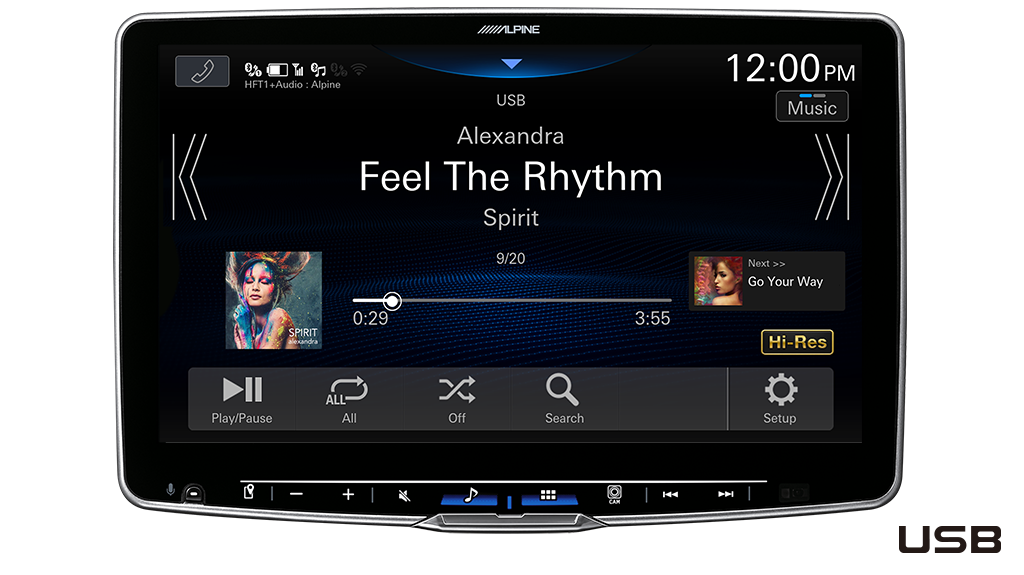 2x USB Connections
The 2x rear USB ports allow for even greater flexibility. USB port 1 provides fast charging of your smartphone while using wireless connectivity. USB Port 2 is your entertainment gateway, allowing audio and video playback via connection of a memory stick, portable drive or SSD and if desired wired connectivity to your smartphone for Apple CarPlay and Android Auto.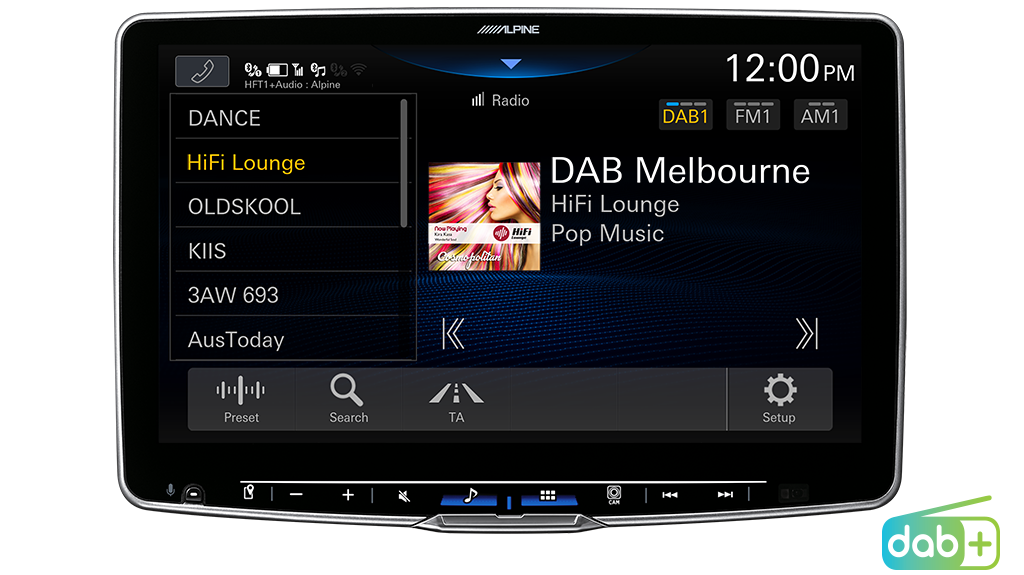 DAB+ Digital Radio 
DAB+ provides you with a range of quality digital only stations that you can search by station name and genres. DAB+ offers a variety of stations with music eras and types, as well as talkback stations. DAB+ displays station info and music metadata, offers clearer sound and improved reception, achieving a noise free, crystal clear radio listening experience.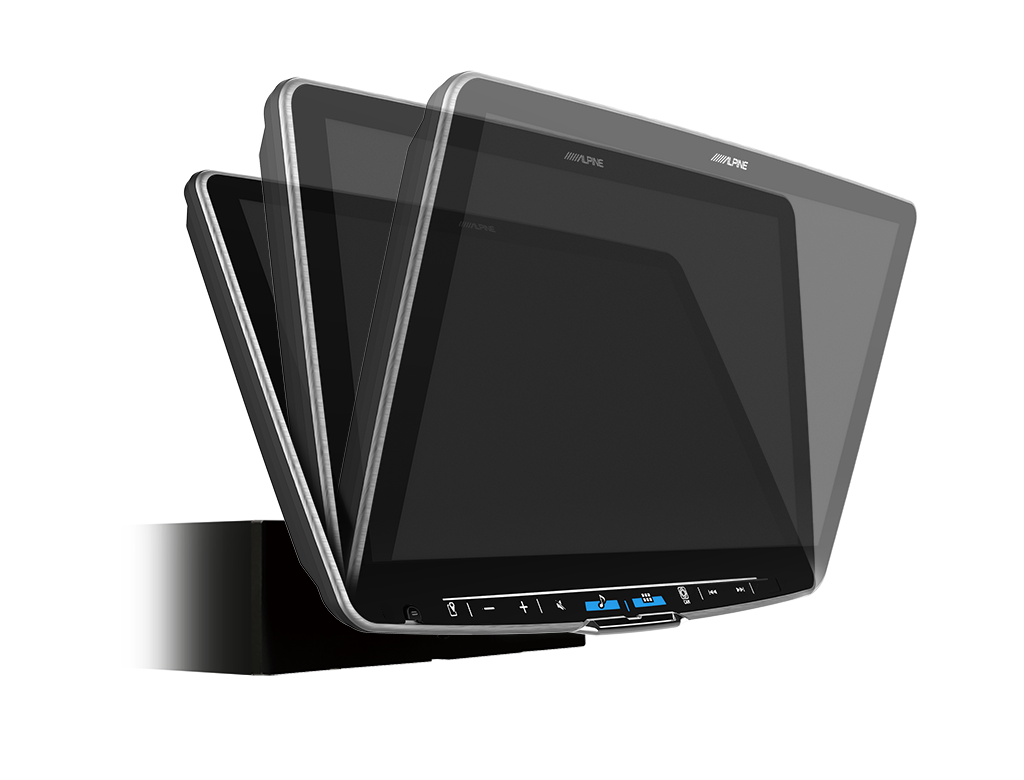 Precisely Adjustable Display Angle
The iLX-F511A provides even greater installation flexibility. At anytime you can set the display angle in between +45 degrees to -20 degrees to specifically suit the dashboard and your desired viewing position. Also, if need be you can set your desired angle on the fly to mitigate glare in certain conditions.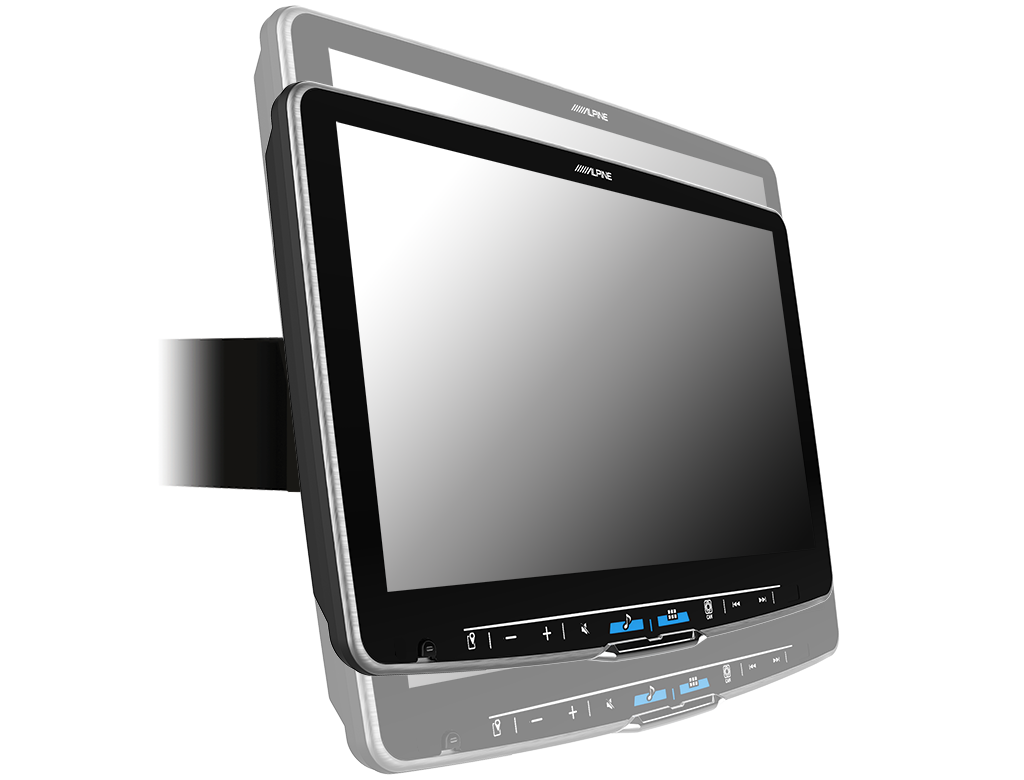 Adjustable Display Height
Positioning of the display in the dashboard is crucial for aesthetics and function. The display height can be adjusted +/- 3cm above or below from the centre position, allowing installation into virtually any dashboard with a 1 or 2 DIN slot. You can also adjust the distance of the display to your dash with a 20mm range.
Features
Radio / DAB Tuner
Preset Stations (FM: 3×12 / DAB: 3×12 / AM: 2×12)
Memory: Auto Memory
Seek Mode: Local, DX, Pre-Set, Service
RDS Functions: PI, PS, AF, TA, TP, PTY, NEWS, RADIO TEXT
DAB+/DMB Supported
DAB+ Slideshow Service
DLS (Dynamic Label Service)
DAB Service Following
RDS Fallback (where available)
Auto Ensemble/Service Memory
Service Search Function
PTY Search Function
Alphabet Search Function
BLUETOOTH®
Built-in BLUETOOTH® Module V4.2
HFP (Hands-Free Profile) Compatible
A2DP (Advanced Audio Distribution Profile) Compatible
AVRCP (Audio / Video Remote Control Profile) Ver.1.5 Compatible
Phone Book Synchronisation
Speed Dial: 4 Preset Memory (per phone)
Call History Display: Outgoing Calls / Incoming Calls / Missed Calls
Redial Function
Speech Volume Level Adjustment: (Outgoing and Incoming)
24 Menu Languages
Microphone Included
Works with iPhone®
Compatible with iPhones featuring a lightning connector
Various search functions and Album Artwork Display
Battery Charging
Connectivity
Works with Apple CarPlay wirelessly (requires CarPlay enabled iPhone)
Works with Android Auto wirelessly (requires Android Auto enabled handset)   **Not all handsets supported and may require wired connection.
Navigation Function
Online navigation capability with Apple CarPlay and Android Auto compatible navigation apps
Includes GPS / Glonass enabled navigation antenna
USB Media Connection
2x USB cable included
USB port 1: data port / USB port 2: charging port
Music Playback: FLAC, MP3, WMA, AAC, WAV, APE compatible
Video Playback: MP4, MOV, FLV, MKV compatible
Supported Video Coding: MPEG-4/H.264 (MPEG-4/AVC)/MPEG-1/MPEG-2
Various search functions included
Sound Tuning
Bass Engine SQ and Bass Engine PRO sound tuning
Subwoofer Level Adjustment
4 V PreOut
10 Equalizer PreSets
13-Channel Parametric EQ x4 audio channels + 4-channel for subwoofer
6-Channel Digital Time Correction
2-way Digital Crossover
Independent Source Volume Level Setting
General
4x 50 Watts Class-D High Power Amplifier
11-inch Capacitive Touch-Screen WXGA Display (1280 x 720p)
Display angle adjustable after installation
3 PreOuts (4 V, Front / Rear / Subwoofer)
1 A/V AUX Input (3.5 mm micro jack)
1 HDMI input / 1 HDMI output
2 USB Ports (1x USB data port / 1x USB charging)
Steering Wheel Remote Control Ready
Vehicle Display Interface Ready (UART connection)
Remote Control Ready
2x Camera Connection (Camera Direct connector) Note: does not support KCX-C250MC camera switch box
Camera Distance Guides (adjustable)
Live Contrast Adjustment
Menu Language: 24 Languages
Auto Dimmer
Anti-theft security code
Engine Start-Stop unaffected
3-Year Warranty when installed by Authorised Alpine Dealer
Specifications
General
Power Requirement – 14.4V DC (11-16V allowable)
Operating Temperature – -20°C to +60°C
Power Output – 50W x 4
Maximum Current Consumption – 15A
Audio Output Level
Preout (Front, Rear): 4V/10k ohms (max.)
Preout (Subwoofer): 4V/10k ohms (max.)
Weight
Screen
Screen Size: 11 inch Laminated WXGA
LCD Type: Transparent Type TN LCD
Operation System: TFT Active Matrix
Number of Picture Elements: 2,764,800 pixels (1280 x 720 x 3)
Illumination System: White LED Backlighting
Effective Number of Picture Elements: 99.99%
Colour System: NTSC, PAL
FM Tuner
Tuning Range –   87.5 -105MHz
Mono Usable Sensitivity –   8.1 dBf (0.7μV/75 ohms)
50dB Quieting Sensitivity –   12dBf (1.1μV/75 ohms)
Alternate Channel Selectivity –  80dB
Signal-to-Noise Ratio –  65dB
Stereo Seperation –  35dB
AM Tuner
Tuning Range –   531-1701 kHz
Usable Sensitivity –  25.1μV/28 dBf
DAB Tuner
Tuning Range –   174 – 240 MHz
Usable Sensitivity –   -100dBm
Signal-to-Noise Ratio – 90dB
USB (1)
USB Requirements: USB 2.0
Max. Power Consumption: 2,400 mA (CDP Support)
USB Class: Mass Storage Class, Play From Device
File System: FAT 16/32, exFAT
MP3 Decoding: MPEG-1/2 AUDIO Layer-3
WMA Decoding: Windows Media™ Audio
AAC Decoding: ACC-LC format ′′.m4a′′ file
FLAC Decoding
Number of Channels: 2-Channel (Stereo)
Frequency Response: 5 – 40k Hz ±1 dB *Frequency Response may differ depending on the encoder software/bit rate
Total Harmonic Distortion (at 1kHz): 0.005%
DynamicRange(at 1kHz): 95 dB
Signal-to-Noise Ratio: 95 dB
Channel Separation (at 1kHz): 90 dB
USB (2)
USB Class: Charge Only
Max. Power Consumption: 1,500 mA (CDP Support)
BLUETOOTH®
BLUETOOTH® Version: Bluetooth V4.2 (2,402 – 2,480 MHz)
Output Power: +4 dBm/2.51 mW Ave. (Power Class 2)
HFP: HFP (Hands Free Profile)
OPP (Object Push Profile)
PBAP (Phone Book Access Profile)
HSP (Head Set Profile)
A2DP: A2DP (Advanced Audio Distribution Profile)
AVRCP: AVRCP (Audio/Video Remote Control Profile)
SPP (Serial Port Profile)
HDMI Section
Input Format: 720p/480p/VGA
Output Format: 720p/480p
GPS
Reception Frequency 1575.42 +/- 1.023 MHz
Reception Sensitivity (Search) -136dB max.
Wi-Fi
Frequency Ranges
IEEE 802.11 b/g/n (2.4 GHz)
IEEE 802.11 a/n/ac (5 GHz)
Channels
1 -13 ch (2.4 GHz)
149 – 165 ch (5GHz)
Security Protocols
WPA3/WPA2-PSK (TKIP, AES)
Dimensions
Din Size: 1DIN chassis and 9" Capacitive Touch Screen
Chassis Size (W x H x D) mm: 178 x 50 x 149.6mm
Display Size (W x H x D) mm: 268.9 x 178 x 54.7
Audio Visual Security can supply and install your product.
We also offer products that will complete your installation including steering wheel control adaptors, wiring harness, fascia panels, can bus integration, antenna adaptors and integrated reverse camera.
These products are vehicle specific and we recommend to be contacted with the vehicle details, so we can ensure the right products are ordered for your car.