We've created a comparison video to help explain the key differences between the F200, F800PRO and U1000. This video will help you decide on which Dash Cam setup will be better suited to your needs. Take a look!
THINKWARE's newest flagship dash cam model U1000 captures true 4K UHD resolution at the front and 2K QHD resolution at the rear, making it one of the highest resolution 2 channel dash cams in the market! Housed in a low profile and modern design, the U1000 brings to the table the latest Cloud Connected features including Live View, Locate Vehicle, Geo-Fencing and Impact Notifications, along with other important driver safety features such as ADAS and safety camera alerts.
The Thinkware U1000 features the following:
ULTRA HD 4K RESOLUTION
With 4 x more pixels than Full HD and 150º wide viewing angle, now you can have every little detail on the road.
156º 2K QHD REARVIEW RECORDING
According to NHTSA data, a rear-end collision takes up to nearly 1/3 of all crashes. With 156 degrees wide viewing angle, you can be protected against accident denials.
THE REVOLUTIONARY NEXT GENERATION PARKING MODE ENERGY SAVING 2.0
Energy Saving 2.0 is a revolutionary development of parking mode.With greatly reduced amount of electricity consumption, the dashcam will be at a standby up to 24 days / 576 hoursOnce an impact is detected, the dash cam will wake up within a second and record for the next 20 seconds of a period.
SUPER NIGHT VISION 2.0
DASH CAM videos recorded in a low-light environment, such as dark alleys or parking lots, may not be clearly identifiable.SUPER NIGHT VISION 2.0 in the U1000 uses Image Signal Processing (ISP) technology to record a clear, visible video in any situation- while driving or parked.
SAFETY CAMERA ALERT
The THINKWARE DASH CAM U1000's internal GPS provides accurate location information while the Safety Camera Alert function is on continuous alert to warn the driver of red lights and traffic enforcement cameras.Cultivate safe driving habits with THINKWARE DASH CAM.
ROAD SAFETY WARNING SYSTEM
The THINKWARE DASH CAM U1000 is equipped with the Lane Departure Warning System (LDWS),Front Collision Warning System (FCWS), Urban Front Collision Warning System (uFCWS) and Front Vehicle Departure Warning (FVDW) to ensure driver safety with a voice warning.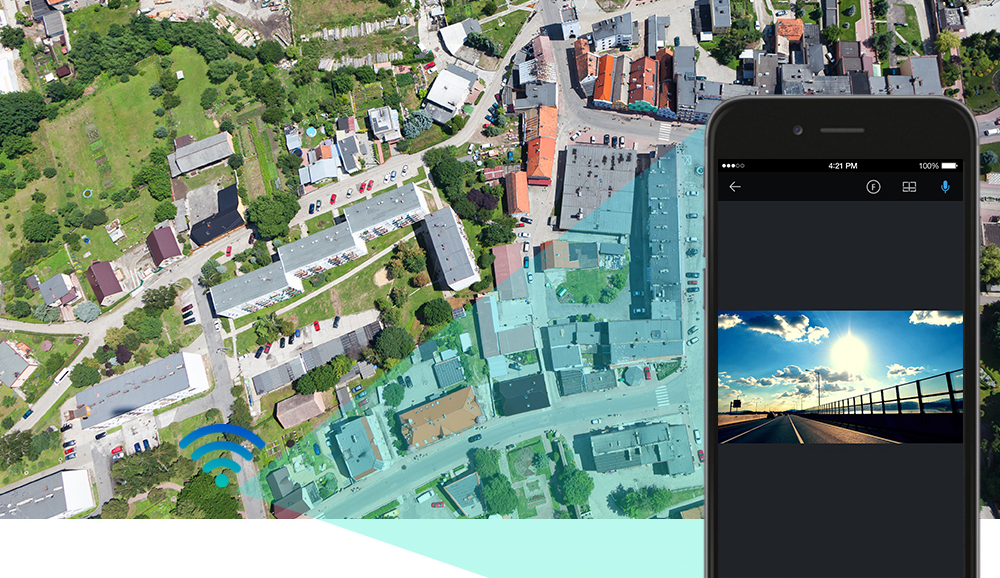 Live View
Watch what is happening in real-time. Monitor your vehicle with your smartphone, no matter where you are. Live Resolution: 768x452p @15fps (available during Continuous Driving Mode & Parking Surveillance Mode)
* Live View: Up to 300 minutes per month. (Reset on every 1st day of the month) (Requires a WIFI hotspot).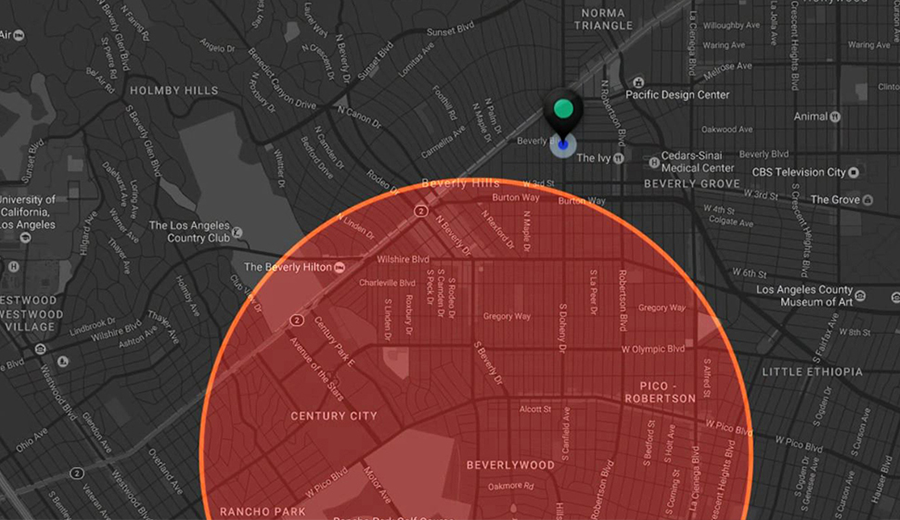 Geo Fencing
Aside from alerting you about the vehicle's whereabouts, Geo-Fencing lets you know whenever your vehicle goes inside or outside a certain area. This will send you a push notification via the THINKWARE CLOUD mobile app. Even better, the Geo-Fence's radius can be set by typing in the address or simply using a pin point on the mobile app itself (Requires a WIFI hotspot).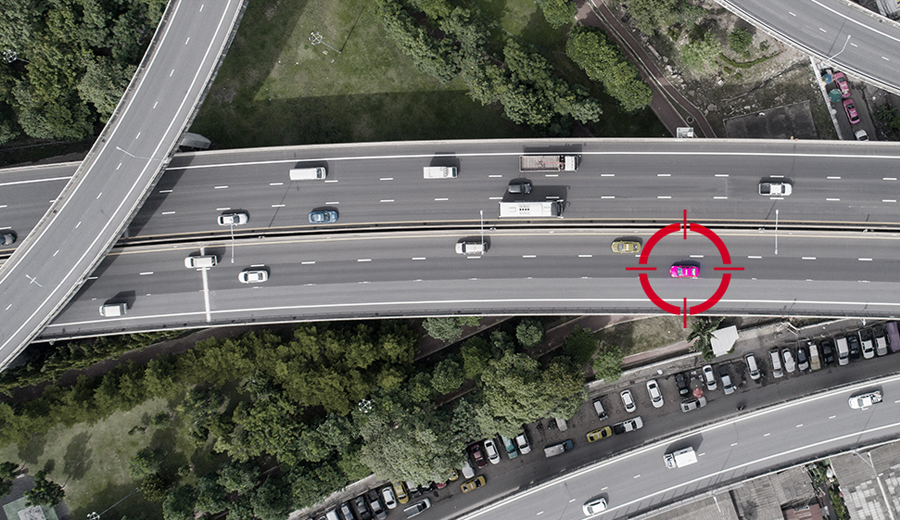 Locate Vehicle
This helps you find the vehicle's real-time position using its Locate Vehicle function. As it updates every 10 seconds, it displays the current location, driving speed information and the direction it's headed with the help of the Google Map (Requires a WIFI hotspot).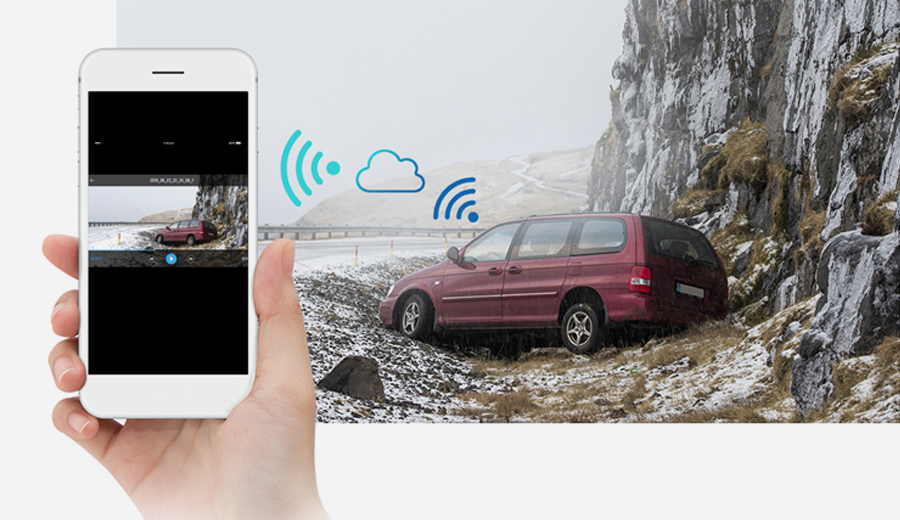 Driving Impact Notification
Using the THINKWARE Cloud app, this sends an alert to the user's smartphone, should the vehicle figure in a collision or accident. On the other hand, the owner's registered contacts can be notified in case the driver gets involved in a car crash, as well (Requires a WIFI hotspot).
*The Thinkware Cloud App must be donwloaded to the Smartphone and an account must be registered. The dash cam must be connected via hotspot to a smartphone or wifi dongle that is located within the vehicle at all time to use the Cloud Features. This requires an internet connection with data available. Carrier fees and charges will apply.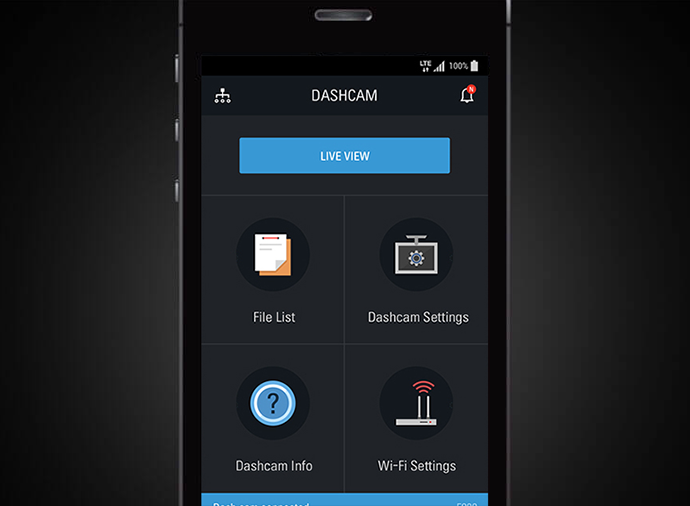 BUILT-IN WIFI SMARTPHONE
APP CONNECTIVITY
WiFi-enabled dash cameras can be connected to an iOS or Android-powered smartphone through the THINKWARE CLOUD APP. Not only does this let you view, download or get rid of recorded videos or captured images within its storage, but it also allows you to update the dash cam's firmware or the stored safe driving information with ease. Even better, this app spells convenience for it gives you easy access to your THINKWARE dash cam, enabling you to adjust dash cam sensitivity, LED and partition settings; watch real-time video using the live viewer; stream live footage; move downloaded videos to mobile phone's library, among others.
ADVANCED DRIVER ALERT SYSTEM 
(ADAS)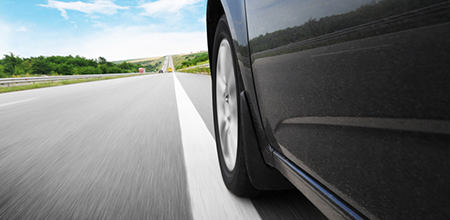 LDWS
Lane Departure Warning System
Designed for distracted or drowsey drivers, the dash cam will alert you as soon as it senses you're vehicle leaving the lane while driving at a speed of over 50 kilometres per hour. LDWS alerts you when leaving your lane to help keep any road misfortunes from ruining your trip or compromising you and your passengers' safety.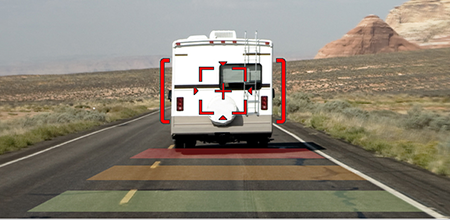 FCWS / uFCWS
High Speed / Urban Forward Collision Warning System
Keep a safe distance from the vehicle you're following with the help of FCWS / uFCWS. Equipped with a state-of-the-art road safety warning system, it calculates the real-time distance between your vehicle and the automobile in front of you at a speed of over 30 kilometres per hour (km/h) (in expressways) and under 30 km/h in a busy, congested city. This dash cam issues a three-level early warning to the driver, depending on the danger of the possible collision.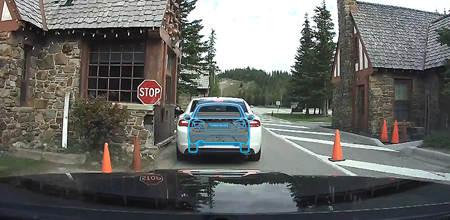 FVDW
Front Vehicle Departure Warning
When stopped at an intersection or a traffic jam, this dash cam's Front Vehicle Departure Warning (FVDW) intelligent guidance system lets you know when the vehicle in front of you has already started moving, helping you stay attentive each time.
---
COMPREHENSIVE DRIVING
INFORMATION
WITH GPS
This dash cam has built-in GPS, meaning, it can help you keep track of your vehicle's driving speed, precise location while identifying ideal routes on the map. GPS also allows for an accurate assessment of a specific area's details, letting you pin holiday routes for faster travels. In case of a road mishap, it supplies factual reading of vehicle speed, time of the collision and impact severity.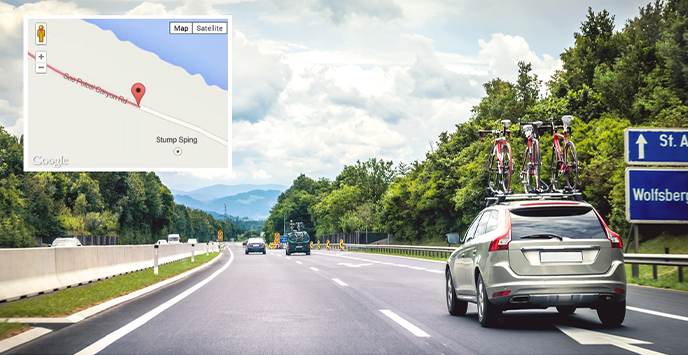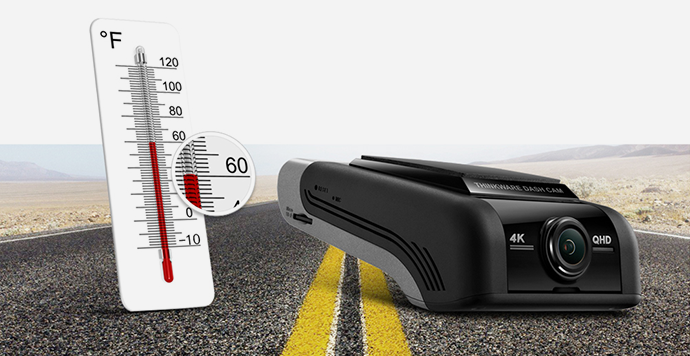 Like all THINKWARE dash cams, this one comes with a built-in thermal sensor that protects it from getting hounded by the intense heat. Clad in a specially-designed heat discharge construction, the sensor automatically shuts the U1000 down to prevent it from overheating, allowing the dash cam to thrive even in the harshest Australian weather conditions.
FAIL-SAFE 
RECORDING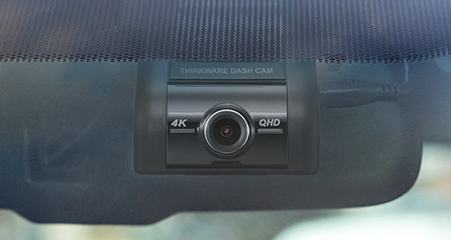 In case the power gets disconnected after an accident, the dash cam's supercapacitor-powered Fail-Safe Recording mode kicks in to ensure the safe and uninterrupted storage of any recording in progress at the time of the collision. Rest assured, these valuable files will be securely stored and stay accessible under any circumstances.
---
FORMAT-FREE 2.0

TECHNOLOGY
Format-free 2.0 Technology helps extend your memory card's shelf life. Since this dash cam utilises the File Allocation Table (FAT) system, there's no need for you to keep on formatting the card manually. Why? Because this mechanism automatically deletes older and less important files in the memory.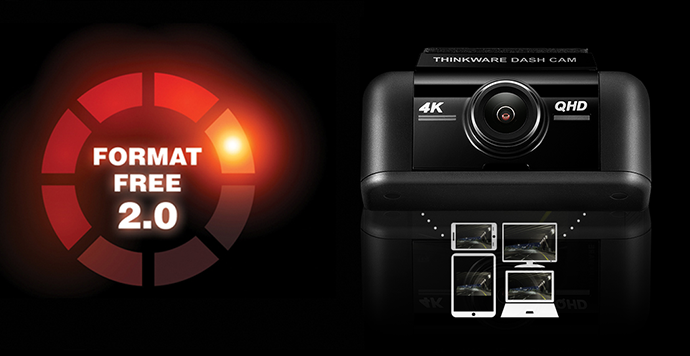 True 4K UHD 2160P Front Dash Cam & 2K QHD 1440P Rear Camera with 150° front / 156° rear wide angle
Industry leading 8.42MP SONY EXMOR R STARVIS image sensor in front cam for clear crisp high definition recordings
Choose how you record, from either a higher quality 4K Front + 2K Rear at 30FPS or a higher frame rate 2K Front + Full HD Rear at 60FPS
Built-in Wi-Fi to control and manage U1000 via iOS or Android powered smartphone
Thinkware Cloud enables geo-fencing, vehicle location and impact notification alerts when the U1000 is connected to a WiFi Hotspot and the smartphone is logged into the Thinkware Cloud App
Advanced Driving Alert System (ADAS); Lane Departure (LDWS), Forward Collision (FCWS), Urban Forward Collision (uFCWS) and Front Vehicle Departure (FVDW)
Safety Camera Alerts including speed camera, red light camera and mobile speed zones
Advanced Parking Modes including Time Lapse and Energy Save to extend recording time
Super Night Vision 2.0 and Advanced Video Clear Technology enhance video footage quality for both day and night recordings
Built-in GPS embeds speed, time and location data into recorded footage
Includes a CPL Filter for the front camera to eliminate lens flare, light reflection and windshield glare
The U1000 supports up to 128GB and this model comes supplied with a 32GB
Includes HWC hard wire kit which enables Advanced Park Mode feature and allows for a professional installation into 12V and 24V vehicles
Korean Made Reliability with 2-Year Warranty
Specs: 
NUMBER OF CHANNELS: 2
RESOLUTION: 4K 2160P (front) / 2K 1440P (rear)
FRAMES PER SECOND: 30 (60 if resolution is changed to 2K front + full HD rear)
CAMERA ANGLE: 150° (DIAGONAL)
IMAGE SENSOR / CAMERA TYPE:

FRONT: SONY EXMOR R STARVIS / 8.42M Pixels / 1/1.8″
REAR: SONY EXMOR R STARVIS / 5.14M Pixels

DIMENSIONS / WEIGHT: 64 X 111.5 X 32MM / 112G
VIDEO ENHANCEMENT TECHNOLOGY:

WIDE DYNAMIC RANGE: YES
NIGHT TIME PICTURE CORRECTION: YES
INTELLIGENT AUTOMATIC EXPOSURE: YES
NOISE REDUCTION: YES
ADVANCED VIDEO CLEAR: YES
SUPER NIGHT VISION 1.0: NO
SUPER NIGHT VISION 2.0: YES

WIFI: YES
GPS: YES
G-SENSOR: YES
DISPLAY SCREEN (SIZE): N/A
SUPER CAPACITOR / BATTERY: SUPER CAPACITOR
HIGH TEMPERATURE PROTECTION: YES
OPERATING TEMPERATURE: -10°C to +60°C
STORAGE TEMPERATURE: -20°C to +70°C
POWER INPUT: DC 12/24V
POWER CONSUMPTION: 2CH 5.1W / 1CH 3.1W (mean)
VOLTAGE DETECTION / CUT OFF: YES
ACCESSORY SOCKET POWER ADAPTER: OPTIONAL
HARD WIRE KIT (HWC): INCLUDED
MOUNTING TYPE: ADHESIVE
DUAL SAVE TECHNOLOGY: NO
THINKWARE CONNECT

GEO FENCE: YES
VEHICLE LOCATION: YES
IMPACT NOTIFICATION: YES
VIDEO STORAGE: YES

CAMERA ALERTS:

FIXED SPEED CAMERA: YES
MOBILE SPEED CAMERA ZONE: YES
AVERAGE SPEED CAMERA ZONE: YES
RED LIGHT CAMERA: YES

ADVANCED DRIVER ALERT SYSTEM (ADAS):

LANE DEPARTURE: YES
URBAN FORWARD COLLISION: YES
HIGH SPEED FORWARD COLLISION: YES
FRONT VEHICLE DEPARTURE: YES

RECORDING MODES:

CONTINUOUS LOOP: YES
IMPACT/INCIDENT: YES
MANUAL: YES
PARK MOTION DETECT: YES
PARK IMPACT/INCIDENT: YES
PARK TIME LAPSE: YES
PARK ENERGY SAVE: YES
AUDIO/VOICE: YES

VIDEO FORMAT: MP4
VIDEO CODEC: H.265
AUDIO CODEC: HE-AAC
MEMORY CARD CAPACITY / CLASS: COMES WITH 128GB MICRO SD CARD; SUPPORTS UP TO 128GB
WARRANTY: 2 YEARS (ON CAMERA HARDWARE, 12 MONTHS ON MICRO SD)
COUNTRY OF MANUFACTURE: KOREA
NOTES:

Kit includes Front Camera, Rear Camera, Hard Wire Kit and Micro SD Card
1x CPL Filter included in pack
PC VIEWER: Front and Rear Footage can not be viewed at the same time due to the large file size. Running both videos at once will cause the PC Viewer to continuously buffer. The files can only be viewed separately, and you can still view the rear footage on the main screen of the PC viewer.
Watch our tutorial video here on how to use the "Thinkware Cloud" App
(Note that the features within the app may vary across the different dash cam models).